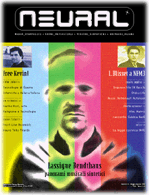 A B B O N A T I

NEURAL
rivista di cultura cyber

n.15, mag 1999


I N E S C L U S I V A: LASSIGUE BENDTHAUS, intervista ad un musicista con l'attitudine digitale
I N O M A G G I O: POSTER 'OPTICAL'

data.flow
quotes
comunicati
news: Hacker Search Engine, Computer Biologico, Telefilm di VR militare, crypto-virus...
feticci: SpaceTak, X1 Button Radio, Piedino
multi.media
.Orgonon Files: Whilelm Reich, Nikola Tesla, William S. Burroughs...
.Otaku Life: Hentai, Gameboy Hacker, Funghi...
.techno.cultura
..cd-rom: The Computer That Changed The World
..zine: Label
..books: Readme!, Davis: TechGnosis, Coar: Apache Server for Dummies, Hayles: How We Became Posthuman, Apocalisse e Utopia (Associazione Astronauti Autonomi)
inter.rete
.Free Kevin Mitnick!
.Luther Blisset a Next Five Minutes 3
.Welcome To War
.cybersex
..video: Suck It and See
..cd: 1-900-GET-KHAN
..libri: Bellini: Maschi Virtuali
..news: Beccato! Sex Online: modello commerciale, Sex Online: affari d'oro, Tutte uguali, Australia sotto censura, Live dagli spogliatoi.
suoni.futuri
.intervista a Lassigue Bendthaus
.intervista ai Front Line Assembly
.intervista a Mauro Teho Teardo
..cd-rom: Cybercommandos, Goah
..books: Prevignano: Noise, Mari: Musica Online
..zine: Grooves, Synergy
.Audio.signals: recensioni musicali: Pizzicato 5, Underworld, Howie B, Autechre, To Rococo Rot, Plaid, Gus Gus, Front 242, Nightmares On Wax, Atari Teenage Riot, James Hardway, Funki Porcini, Thievery Corporation...
.singles: Cornelius, Kid Loops, Cobra Killer, Dj Linus, Stoppa...
co.scienza
.Mariko Mori: Dream Temple
.Tutta Colpa di Eva
.art.presence (artwork)
.animé
..cd-rom: Laboratory, Moba
..book: Rath: Robotics, Baroncinj: Il Grande Tritacarne, Griner/Furnari: Otaku, Chiarotto/Colucci: Embryotica
..cd: Lunapark 0,10
fanta.scienza
.Matrix
.Dottor Ware - Aaron The Cyberkiller (fumetto)
.racconto: Sabbia Nera, racconto di P.L. Ubezio
.Ufo: La legge Cosmica a cura del M.I.R.
.Orion, le news: R.Sheckley, Sys.Info, Dictionary of SF Places, Mad Max, La mano sinistra del potere...