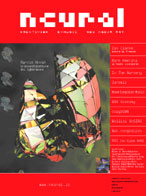 A B B O N A T I

NEURAL
rivista di cultura dei nuovi media
.hacktivism
.emusic
.new media art

n.18, giu 2001


I N E S C L U S I V A: intervista esclusiva Marcus Novak
I N O M A G G I O: POSTER 'BOLLINI ANTI SIAE'

quotes
hacktivism
.Ian Clarke (autore di Freenet), intervista
.GNU Economy
.copyDOWN
.news: Legge sull'editoria online, che orrore, Diabolik gabbato dagli hacker, Topolin ha vinto, Mitnick: stop al furto d'identità Codice per sproteggere i DVD, Stallman sul diritto d'autore, Ben detto! (Andy Mueller-Maguhn).
.recensioni:
..books: Steven Levy: Crypto; Hans Christian Schmidt, Michael Gutman: 23; Giustozzi, Monti, Zimuel: Segreti Spie Codici Cifrati; Richard Power: Tangled Web; Lessard/Baldwin: Net Slaves; Next Cyberfeminist International; Bruno Ballardini: Gesù lava più bianco; Franco Berardi (Bifo): La fabbrica dell'infelicità Jean Baudrillard: Il delitto perfetto; Patricia Wallace: La psicologia di Internet.
emusic
.Intervista agli In The Nursery
.Intervista ai Vision of Excess (ex Clock Dva)
.Intervista ai Jollymusic
.Home Computer Music Scene
.news: DJ I Robot, Sveglie con gli mp3, MP3 Open Source, Advanced Audio Coding, Muscoli e suoni, Server sequestrato a radio di Treviso, DJ live scambiati come un tempo, Open Audio License, Playstation dance, Tessuti sonori, Dammi un'idea per un brano.
.recensioni:
..dvd-rom: Better Living Through Circuitry.
..cd-rom: Kyborg + Sarah Marrs: Bask; Falsch01.
..books: Beyond the charts, ICMC 2000, Sound Drifting, Lost in Sound, To hear is to See.
..magazine: Acoustic Space, Artefakt, TapeOp
.recensioni: Mouse on Mars, Nicola Conte, Ian Simmonds, Sporto Kantes, Badmarsh & Shri, Monomorph, Controlled Bleeding, Scannerfunk, Matmos, Tortoise, Muslimgauze, Autechre, Plaid, Squarepusher, Die Form, Atari Teenage Riot, Lesser, Pizzicato Five, Metamatics, Le Hammond Inferno, Mick Karn, Minus 8, Illicit Sound of Maffia, Fauna Flash, Burnt FriedmannHi Fidelity Dub Sessions, Hi-Tek, Whole Nine Yards, Buddha Bar, A Guy Called Gerald, Bell, Juno Reactor, The Trip original soundtrack, Blake Baxter, Tluk, Retina, Copier Collier, Metaxu, Massimo, Berlin Theorie, Bisk.
new media art
.Intervista a Marcus Novak
.Intervista a Mark Amerika
.Intervista a Jaromil
.Net.congestion festival
.Beta Land (fumetto)
.I sogni di Mr. Lars, racconto di Domenico Gallo
.news: Desktop d'autore, R111, Symphony of a City, Genochoice, Scansioni di foto di altre foto, Conversazioni artificiali, È morto Douglas Adams, WebTracer, Net.ephemera.
.recensioni:
..cd-rom: Blam!3, Mutazioni, Techno Subgoddesses
..books: Steven Kovats: Media Revolution; Peter Lunenfeld: Snap to the grid; Station Rose: private://public; Matthew Fuller: ATM; Miguel Angel Martin: Cyber Freak; Ars Electronica 2000 (Next Sex); M. Featherstone, R. Burrows: Tecnologia e Cultura Virtuale; Terrel Ward Bynum, James H. Moor: La Fenice Digitale; Anomalie 1.0; Mediaterra 2000, ISEA 2000; Piermario Ciani: Cyberinterazioni; Ken Goldberg: The Robot in the Garden; Freash Cream; James Warren Felter: Artistamps; Futurama; Pierre Levy: Cybercultura; Future Film Festival; Piermario Ciani: Dal Great Complotto al Luther Blisset.