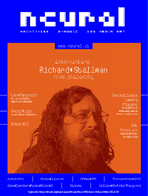 A B B O N A T I

NEURAL
rivista di cultura dei nuovi media
.hacktivism
.emusic
.new media art

n.19, giu 2002


I N E S C L U S I V A: intervista esclusiva a Richard Stallman
I N O M A G G I O: POSTER 'Maodonald's' di Kenneth Hung

hacktivism
.free.philosophy, intervista a Richard Stallman
.Società sorvegliate, intervista a David Lyon (autore di Surveillance Society)
.Hackit 2001
.Radio Cybernet, hacktivism art in streaming
.news: Hacking dell'Xbox, Biometrica delle impronte digitali, M-o-o-t crittografia open source, Omografo di Microsoft.com, Bugnosis software per scoprire i dati che escono dal tuo computer, Anti-Keylogger 1.12.
.recensioni:
..books: Pekka Himmanen: L'etica hacker; Bruce Schneiener: Secrets and Lies; Huberman: The laws of the web; Sarai Reader 01; Peter Ludlow: Crypto Anarchy, Cyberstates and Pirate Utopias; Grossman: From Anarchy to Power; Ray Kurzweil: The age of spiritual machines; Berners-Lee: L'architettura del nuovo web; Gillies & Caillau: How the web was born; Ferry Byte, Claudio Parrini: I motori di ricerca nel caos della rete, Dertouzos: La rivoluzione incompiuta; John Kats: Geeks; Williams: Free as Freedom, Richard Stallman & the Free Software Foundation.
emusic
.Laptop con ironia, intervista ai Dat Politics
.386dx la macchina che canta, Intervista Alexei Shulgin
.Intervista a Massimo
.Robot Dj
.Home Computer Music Scene 2 (Nanoloop, Gameboy Pocketnoise, Little Computer People, Output 64)
.news: Software d'improvvisazione jazz che impara dagli insetti, Hyperscore software per scrivere musica con linee colorate, Volto di Aphex Twin codificato in una traccia, Discogs il database in rete della musica elettronica, Total Recorder registrare gli stream in formato wave, i sonogrammi di Jeff Talman.
.recensioni:
..dvd-rom: Transambient+ Spaced Out+Mixmasters, Trance & Acid.
..books: Khan: Noise, Water Meat; Dan Sicko: Techno Rebels; Bjork; Davoli-Fantuzzi: Clubspotting 2.0.
.recensioni: Beth Hirsch, Solex, Peace Orchestra, Fauna Flash, Koop, Dj Spooky, Mixmaster Mike, Keoki, Masters At Work, Tall Paul, Poalr, J. Majik, Playgroup, 4vini, Psychick Warriors Ov Gaia, Earl Zinger, Ken Ishii, Vainio/Fennesz, Merzbow, Foetus, Andreas Berthiling, Jim 'O Rourke, Aphex Twin, Klaus Schulze, De Fabriek, Alec Empire, Nic Endo.
new media art
.Arte contro le telecamere di sorveglianza: Intervista ai Surveillance Camera Players.
.La webcam sulla fine delle Twin Towers: intervista a Wolfgang Stahele (Thing.org)
.Il lInguaggio dei nuovi media: intervista a Lev Manovich
.arte elettronica a Berlino, Transmediale 2002
.MMM Movimenti Multimediali + AHA Activism-Hacking.-Artivism
.Star Stripper, racconto di Marco Ramadori
.news: Hiperlook browser alternativo, Minitasking software art per gnutella, 10 net art ottica, vOluptuary pitture robotiche, Metapet videogame art di lavoratoru modificati geneticamente.
.recensioni:
..cd-rom: Arte Y Electricidad, Telematic Connections
..books: Weibel Druckery: Net_Condition; Brenda Laurel: utopian Entrepreneur; Sholder, Crandall: Interaction; Brouwer, V2: Machine Times; Steven Poole: Trigger Happy; Televisions; Tilman Baumgarte: Net.art 2.0; Rafael Lozano-Hemmer: Vectorial Elevation; Fleishmann, Strauss: Cast01; World Wide Video Festival 2001, Festival (vari); Nelson, Tu, Headlam Hines: Technicolor; Englash: African Fractals; Cane Capovolto: Conundrum; Ars Electronica 2001 (Takeover); Olivier Dyens: Metal and Flesh; Candida: Supervideo G8; Ciro Ascione: Videogames; Lorenzo Taiuti: Corpi Sognanti.
..books (fantascienza): Sign (cdrom), Philip K. Dick+Zelany: Deus Irae, Ballard: La mostra delle atrocità, Ligny: Io Erotica, Philip K. Dick: L'uomo nell'alto castello.