NEURAL
rivista di cultura dei nuovi media
.hacktivism
.emusic
.new media art

n.21, aprile 2004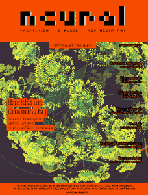 A B B O N A T I
O R A
E N G L I S H
E D I T I O N


I N O M A G G I O: POSTER 'no.10' di Lia

hacktivism
.Hacktivism History, intervista a Tommaso Tozzi
.Net.Criticism, intervista a Geert Lovink
.Quinto Hackmeeting
.Connecting Data Clouds, intervista a Howard Rheingold
.Hackit 03
.news: Plug & Pray choose your religion, Wikipedia: free no-copyright encyclopedia, Swappingtons exchanging books and records on the web, Attacking spammers by drowing them in paper, Injunction Generator, Ubermorgen's legal art.
.reviews:
..books: Kevin D. Mitnick: The Art of Deception; Thomas: Hacker Culture; Weinberger: Small Pieces Loosely Joined; Verton: Hacker Diaries: Confessions of Teenage Hackers; Sarai Reader 02; (edited by) Frohne Weibel: Ctrl [Space], Lawrence Lessig: The Future of Ideas; Bard Soderqvist: Netocracy; DiCorinto Tozzi: Hacktivism; Geert Lovink: Dark Fiber, Geert Lovink: Uncanny Networks; Fibreculture Reader, NL.Design: Mobile Minded.
emusic
.Vectorial Music, intervista a Carsten Nicolai
.8bit Community, Intervista a Micromusic.net
.Vj Cosciente, intervista a Otolab
.news: Erratum Errata dj Spooky remixing Marcel Duchamp, Invisible Cities i suoni delle cittą, Atmospherics suoni ricostruiti dai dati, IanniX 0.54 software dedicato a Iannis Xenakis, Gameboyzz Orchestra Project il suono Nintendo.
.recensioni:
..cd-rom: Tonne - Soundtoy, Scanner+Tonne - Sound Polaroids, Battery Operated - Chases through Nonplaces, Fb 50.
..books: Alderman: Sonic Boom; Wollscheid: Selected Works 1990-2000; Leitner: Geometry of Sound; Roads: Microsound, Sobol: Digitopia Blues.
.recensioni: [The User], Daedelus, Electric Pavillon, Donna Summer, Forma 1.02, Future Sounds of Jazz Vol. 9, Radiotopia, Manos Arriba!, Sogar, Institut Fuer Feinmotorik, Audio-Tourism Remixes, The Soft Pink Truth, Dialtones, Bip Hop Generation 6, Son of Clay, Scanner, 21st Century Breaks, Pankow.
new media art
.Fuzzy Biological Sabotage: Intervista ai Critical Art Ensemble.
.Biotelematics: Intervista a Eduardo Kac.
.Digital is Not Analog festival
.news: Runme.org software art database, Grey Area autoritratto per informazioni, 32.000 points of light mondi descritti con la luce e il suono, GoogleSynth immagini inedite dagli archivi di Google, Data Diaries la memoria dei dati.
.recensioni:
..dvd/cd-rom: (.dis)LOCATIONS, fineArt Forum
..books: Grzinic: Stelarc; Frieling: Media Art Interaction the 80s and 90s in Germany; Goldberg Siegwart: Beyond Webcams; Goldberg Siegwart: Beyond Webcams; Install.exe - Jodi; Levin Lia Meta Ward: 4x4 Generative Design Life / Oblivion; Kember: Cyberfeminism and Artificial Life; Sick Reiche: Technics of cyber <> feminism < mode = message > Hayles: Writing Machines; Unplugged Ars Electronica 2002; Belly: The Cybercultures Reader; Wilson: Information Arts; Brouwer Mulder Archined: Transurbanism; Burnham: Supercade; Wishart Bochsler: Leaving Reality Behind; Ascott: Art Technology Consciousness.