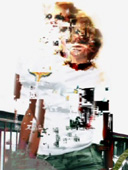 . dvd video
(curated by) Gideon Kiers, Lucas van der Velden
Sonic Acts XI, The Anthology of Computer Art
<dvd video> Sonic Acts
This rich anthology of works has been produced for the eleventh edition of the homonymous festival and probes deeply the mutual relationship between sound and image through the accumulation of lights, colors and sound with a frequent abstract narrative. In perspective it constitutes a single long gamble with our visual/audio systems, intrigued and tricked by the machines' processing. There are many adopted perspectives, and from time to time they assume different points of reference, allowing one of the two perceptive elements being dependent on the other, or enabling a dialogue amongst them on different levels. The value of the elaborations can be seen in the dissection of the visual and sound elements. The reduction in pixel / samples and its subsequent recomposition is one of the contemporary digital art prerogative. But this typically technical aspect entails a mouldering of the real and its infinitely variable representation, that could then be built depending on the adopted alphabet of choice. Finally the dvd is recorded on both sides with different contents, so to be fully enjoyed it forces us to a gesture that is typical of vinyl (turning the record to listen the B side), and it preserves an atavistic and specific musical characteristic, nicely hidden in such an amount of modernity.