NEURAL
rivista di cultura dei nuovi media
.hacktivism
.emusic
.new media art

n.21, aprile 2004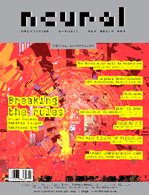 A B B O N A T I
O R A
E N G L I S H
E D I T I O N


I N E S C L U S I V A: intervista esclusiva a Retroyou.org
I N O M A G G I O: POSTER '404_File_Not_Found' di Darko Fritz

hacktivism
.Emigrare dall'Impero: intervista a Brian Holmes
.Chaos Communication Camp
.La Rivoluzione sarà in Onda (Telestreet)
.Hackit 03
.news: Hippies From Hell il film, Superbot esercito di bot pro-privacy, MindGuard fake software sul controllo psicotronico, CopVision I like to watch, Domain Name Anarchy autogoverno del DNS.
.recensioni:
..books Geert Lovink: My First Recession, Mike Godwin: Cyber Rights, Konrad Becker: Tactical Reality Dictionary, (edited by) Armin Medosh: Dive, (a cura di) Franco Bifo Berardi - L.Pignatti - M.Magagnoli Errore di Sistema Teorie e pratica di Adbusters.
..cd-rom: Kuda.org: Safe Distance.
..magazine: World Information, special Intellettual Property edition
emusic
.Astrazioni Digitali: C505, Rechenzentrum, Ryoichi Kurokawa
.Audiopad, gestualità audio
.intervista a Donna Summer
.news: Ping Melody, duettare con la rete, League of Electronic Music Urban Robots, Algorythmic Clustering of Music comprimere = conoscere, Audiogame, interactive visual sound, Bass-Station un server musicale in un ghetto-blaster, Cyberinfinity visualizzazione artificiale del suono.
.recensioni:
..dvd/cd+: Farmers Manual - RLA, Ryoji Ikeda - Formula, @c: Hard Disk.
..books: Acoustic Space.
.recensioni: Ultrared, Dave Ellesmere, Ekkehard Ehlers, Kevin Blechdom, Jason Sparks, Koma+Bones, Maps+Diagrams, Matmos, Vegetable G, Stoloff & Hopkinson, Ennio Morricone Remixes, Ernesto Rodriguez+José Oliviera+Marco Franco, Yoshihiro Hanno, Takeo Toyama, Daruma, Le Forbici di Manitù, Riccardo Villalobos, Volks.
new media art
.Software Culture: intervista a Matthew Fuller.
.Cultura di Massa del Plagiarismo
.Read_Me 2.3 software art festival report... riprogrammare significati
.news: Nike Ground boomerang marketing, Radical Software la prima rivista d'arte elettronica &e;acute stata digitalizzata, Dictionary of Primal Behaviour, Molecular Media Project distrarre i dati digitali, Portret Series ritratti generati.
.recensioni:
..dvd/cd-rom: Deaf03, Data Knitting
..books: Information is Alive, (edited by) T.Goryucheva, E.Kluitenberg: Debates and Credits, K.Salen E.Zimmerman: Rules of Play, N.Wardrip-Fruin Nick Monfort: The New Media Reader, Tom Sherman: Before and After the I-Bomb, M. Deseriis G.Marano Net.Art l'arte della connessione, G.Liestol A.Morrison T.Rasmussen: Digital Media Revisited.